Jeremie Watkins on Clark County's Mobile Billboard Rules
Clark County Nevada Commissioners unanimously approved mobile billboard rules due to safety and congestion concerns.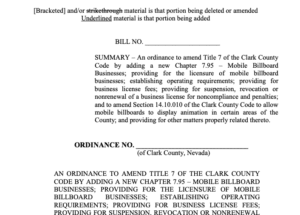 Here's a link to the new mobile billboard law.  The rules go into effect January 1.   The rules require mobile billboard operators to register with the county, pay an annual fee of $500 per vehicle and keep $1 million in insurance. 
Read the full story here: https://billboardinsider.com/clark-county-passes-mobile-billboard-rules/